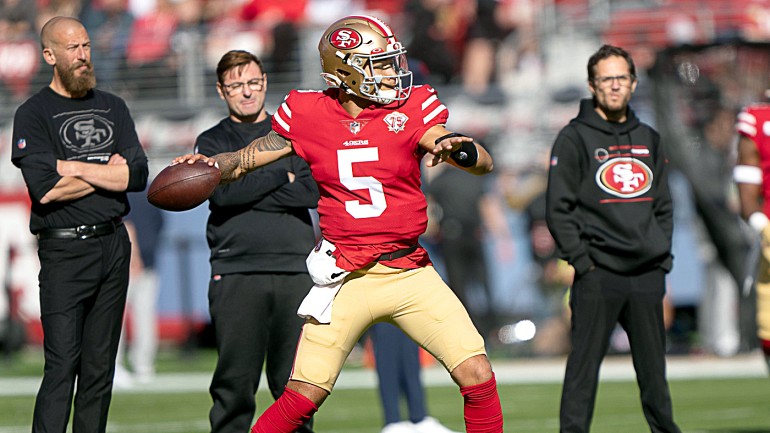 The San Francisco 49ers concluded their offseason program by ending their mandatory minicamp a day early last week. Wednesday was the final practice. The team held a family day on Thursday, hosting players, coaches, and staff for food and fun.
The 49ers moved up the minicamp by a week. They could have held the remainder of organized team activities (OTAs) this week but opted to cancel the remaining practices, allowing players an extended break before reconvening in late July for training camp. The rookies were already expected to remain in Santa Clara this week for some extra work.
They won't be the only ones, though. According to NBC Sports Bay Area, quarterback Trey Lance and some other second-year players will also remain in Santa Clara for an additional voluntary week of work before their break. Most veterans have already departed the area.
Lance started just two games last season, attempting only 71 passes during his rookie campaign. Despite veteran Jimmy Garoppolo remaining on the roster, Lance is slated to become the 49ers' Week 1 starter.
Lance spoke with reporters last week, assessing what he has gained from practices up to that point after spending time following the season working with several high-profile quarterbacks coaches in Southern California and Atlanta.
"Just reps, being able to be around the guys, being able to be in the locker room, around the coaches," Lance shared. "It was big to get Brock [Purdy] in the room, new quarterback coach, new assistant quarterback coach, just being around the guys again and being around football, and this situation is a lot different than training other places or throwing routes on air to other guys."
Related News
Nobody's perfect. Did you find a mistake in this article?
Report it.
Facebook Comments
More San Francisco 49ers News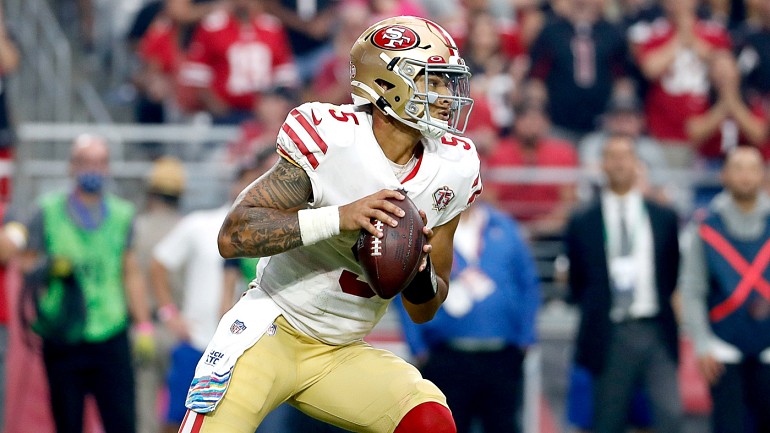 TDN projects 2022 stats for 49ers QB Trey Lance
Most expect Trey Lance to be the San Francisco 49ers' starting quarterback in 2022. The former No. 3 overall pick started just two games last season but is slated to succeed the team's starter of the past four-and-a-half seasons, Jimmy Garoppolo.
What can fans expect from the 22-year-old quarterback after he made just 71 pass attempts in year one? The Draft Network shared its projection for Lance. The respected draft site envisions the young 49ers quarterback throwing for 3,998 yards, 28 touchdowns, and 14 interceptions while adding 706 rushing yards and three rushing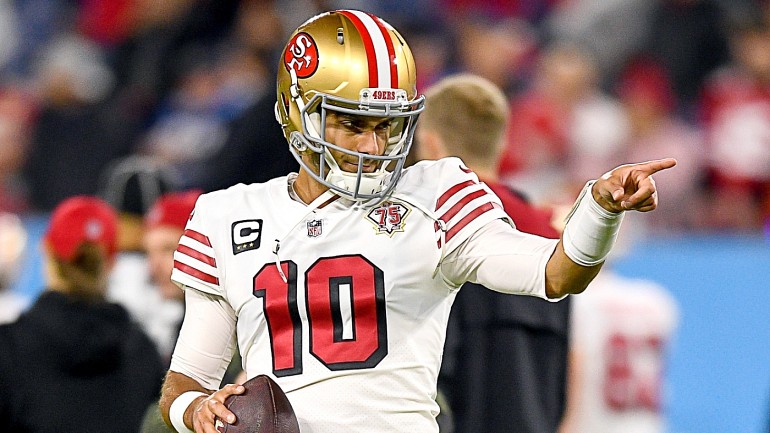 Where 49ers' Jimmy Garoppolo landed in Chris Simms' QB ranking, and what it means for Trey Lance
Earlier this month, NBC Sports analyst Chris Simms revealed where Trey Lance landed in his ranking of the top 40 NFL quarterbacks—at No. 31. Simms was critical of the San Francisco 49ers' second-year player, noting that Lance has the potential to succeed but has accuracy issues and hasn't developed as quickly as hoped.
"I'm not sold on the whole potential thing with Trey Lance, everybody," Simms later added. "That's why he's [ranked at] 31. … I'm not sold on his potential. I would never draft this guy at quarterback."
For now, Jimmy Garoppolo remains on the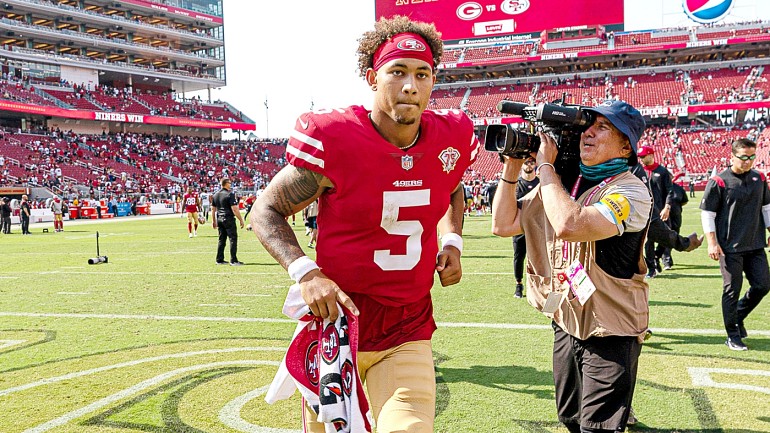 Emmanuel Acho on 49ers QB Trey Lance: "He just ain't it"
There have been a lot of Trey Lance skeptics and naysayers this offseason. Last week, the 22-year-old San Francisco 49ers quarterback told reporters that he isn't concerned with the offseason noise. Instead, he's used this time to allow his thumb to heal, and he's focused on improving.
Count Emmanuel Acho of FOX Sports among Lance's skeptics. Neither he nor his Speak For Yourself co-host, Marcellus Wiley, are confident in the former No. 3 overall pick, who is expected to be the 49ers' starter come Week 1.
Acho and Wiley went through the quarterbacks entering year two and shared their confidence levels for each on a scale from zero to
Daniel Jeremiah on Trey Lance, 49ers' future: "He can take that group to another level"
There is no doubt that Trey Lance is a big question mark on the San Francisco 49ers roster for the upcoming season. We've only seen two starts from last year's No. 3 overall pick and just 71 pass attempts. Still, even if there are growing pains in his second NFL season, there is enough talent around the 22-year-old quarterback to win.
NFL Media analysts Daniel Jeremiah and Bucky Brooks recently held a fantasy draft. It didn't involve players, though—at least, not individually. The two alternated selecting the teams that they feel are most likely to win the most Super Bowls over the next five years.
Brooks selected the defending Super Bowl champion Los Angeles Rams with the No. 1 overall pick. Jeremiah followed that up by choosing the Los Angeles Chargers at