Monday, June 13th 2022, 7:47 pm – The eastern Prairies are under the threat of thunderstorms through the pre-dawn hours Tuesday morning, with the chance of some nocturnal storms turning severe. Stay alert!
While the western Prairies sees excessive rainfall to kick-start the week, the eastern section faces the threat of thunderstorms, potentially severe in southern Manitoba, through early Tuesday morning. Torrential rain and strong winds would be the primary threats with these strengthening storms. They might ultimately be classified as a mesoscale convective system (MCS), a cluster of strong thunderstorms. For more on the timing of storm threat, and what's ahead for the rest of the week, see below.
---
RELATED: Warnings in effect for as much as 150 mm of rain in Alberta, Saskatchewan
---
MONDAY NIGHT/EARLY TUESDAY MORNING: SEVERE THUNDERSTORM THREAT ON EASTERN PRAIRIES
While parts of southern Alberta and Saskatchewan deal with extreme rainfall through Wednesday, with as much as 150 mm possible in the hardest-hit areas, the eastern side of the region is contending with a severe storm risk Monday night.
Towards the eastern Prairies, a large cluster of thunderstorms has the potential to reach severe criteria right through pre-dawn Tuesday across southeast Saskatchewan and southern Manitoba. Localized flooding and damaging winds are the primary threats.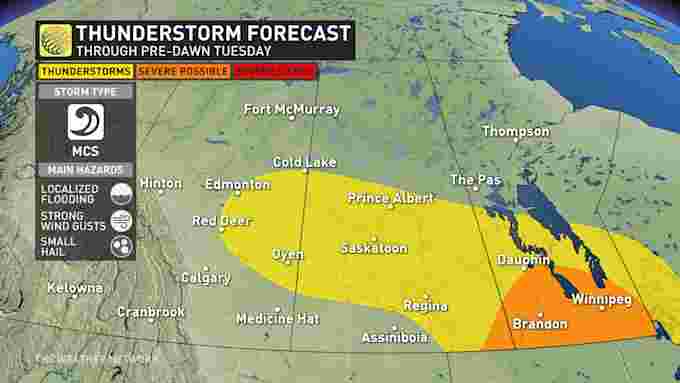 ---
MUST SEE: Why nocturnal thunderstorms can be particularly dangerous
---
"Heavy rain and strong wind gusts would be the primary threats if any storms strengthen, but with some wind shear present in southeastern Saskatchewan, stronger storms that develop will need to be monitored for rotation as well," warns Kelly Sonnenburg, a meteorologist at The Weather Network.
WATCH BELOW: HOW WILL IT COMPARE? IS THIS ANOTHER 2013 FLOODING EVENT?