Monday, June 13th 2022, 8:22 pm – Many parts of B.C.'s Interior remain under streamflow advisory or flood watch.
Residents of Six Mile, north of Nelson, B.C., are being asked to prepare to leave their homes as the district's Emergency Operations Centre issued an evacuation alert for the whole community.
Chris Johnson, EOC director for the Regional District of Central Kootenay, says a decades-old orphaned dike near a creek by Six Mile could fall apart if water levels continue to rise, with heavy rainfall forecast for southeast B.C. on Monday and Tuesday.
"Six Mile itself has a creek on it called Duhamel Creek," Johnson told CBC News. "We are concerned with this [dike] rapidly deteriorating during high flows … to speak frankly, the structure could fall apart at any time when we get into higher flows." Johnson told CBC News.
SEE ALSO: 10 ways The Weather Network app can help you plan for summer weather
An orphaned dike is so named because it is not owned or maintained by anyone.
While residents of the community are not yet required to evacuate, Johnson says they should be prepared to leave at any moment.
"Know where you are going. You might get evacuated while you're at work," Johnson said. "We're expecting up to 50 millimetres of rain in the next 24-48 hours. Make sure you have important documents, clothes … some people won't necessarily be able to go back into their homes."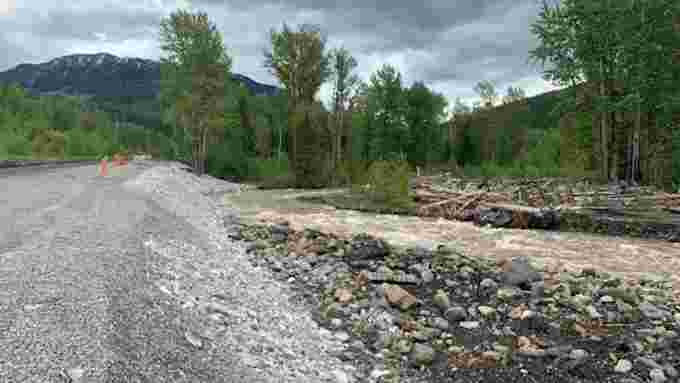 Coal Creek near Fernie, B.C., on June 10. Roads around the creek were closed and a flood watch was issued for the area on Sunday due to projected heavy rainfall. (City of Fernie/Facebook)
Johnson says the district board has been looking into replacing the six-decade old orphaned dike.
"We are waiting for preliminary designs to be completed to determined potential costs associated with the project," he said.
On Sunday, Environment Canada issued a rainfall warning for the Elk Valley in the East Kootenay.
The forecaster stated 50-80 mm of rain could fall in the area by Tuesday morning, and areas near Fernie are expected to receive the highest amount of rain. The rainfall could result in localized flooding, according to Environment Canada.
High streamflow advisories are in place for the Upper Columbia and West Kootenay regions, with affected waterways including the Elk, Kaslo, Bull and Kootenay rivers.
Another high streamflow advisory was issued for the South Thompson River and tributaries including the Seymour River, Eagle River, Adams River and Shuswap River.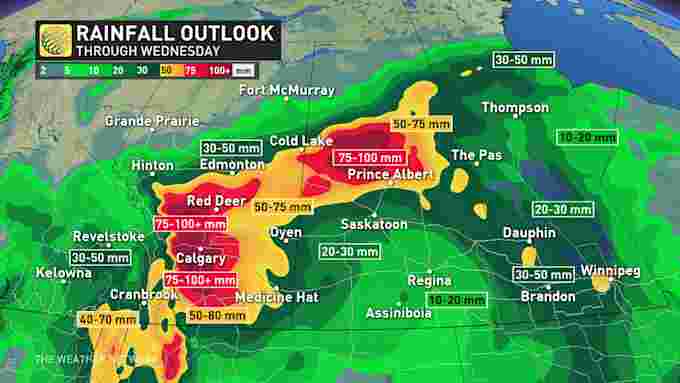 'SIGNIFICANT FLOWS'
The provincial river forecast centre said rivers could rise to levels not seen in a decade, according to its current hydrologic modelling, "indicating risks for flooding" Monday and Tuesday, especially in the East Kootenays.
"Given the uncertainty in the position of the weather pattern and heaviest rainfall," the centre said in a statement, "it is possible that adjacent areas in the West Kootenay and Upper Columbia also experience significant flows."
In response to the flood watch the centre issued Saturday for the North Thompson River, including tributaries around Barriere and Clearwater, the District of Clearwater activated its Emergency Operations Centre to Level 1.