The Picasso Century gives you all the clues you need. The whole show is constructed around the artist's friendships, decade by decade. The analytical catalogue is more a parade of people than of pictures, but it's helpful in documenting the extent and glamour of Picasso's circle – a who's who of the intelligentsia of the first half of the 20th century.
Before Didier Ottinger from the Centre Pompidou curated this exhibition, Picasso himself curated the line-up of famous charismatic heavyweights, like – excluding scores of visual artists – Apollinaire, Aragon, Bataille, Breton, Cocteau, Diaghilev, Éluard, Hemingway, Leiris, Malraux, Stein.
The Picasso Century is a good title because perhaps no artist so seductively carries the fantasies of his century. There were other contenders with a strong intellectual claim, but they didn't set up their lodgings and biography to be quite so sexy.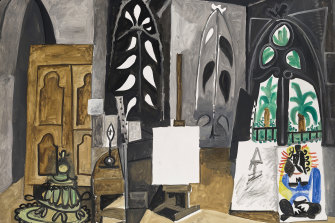 Picasso became the archetypical artist in an age that was fond of archetypes. In the popular mind, he was seen as the progenitor of modern art: prolific, audacious, revolutionary, passionate, intuitive, a metaphorical matador licensed to be stylishly cruel. His every fault would be construed as a necessary aspect of genius.
Further, Picasso was enviably successful, which made him a beacon of wish-fulfilment, living an eternal creative holiday in exotic villas with voluptuous companions; and all this upon a satisfying memory of doing it hard in a Montmartre garret.
The authors of the catalogue confess how keen Picasso was for photographers to capture the productive mess of his large studios. The famous people screened for the privilege of visiting would multiply his tentacles on posterity.
Loading
Picasso's magic as a persona transcended aesthetics. You didn't need to like his paintings; in his century, it sufficed that you recognise the archetype of mercurial rule-breaking conjuror.
It would be said of all modernists that they liberated art from the old academy. But in acquiring mythical status, Picasso emancipated art audiences from the very need to judge pictures according to how well painted they are. His pictures only need to fulfil the terms of the archetype.
But what do we think in this century? In The Picasso Century, there's little effort to explain how any of the works have a compelling aesthetic dimension. The discussion of the social milieu, wars and affiliations is brilliant, but as for the poetic calibre of the pictures, you'd have to discover it for yourself.
Loading
If the exhibition had been in the hands of Australian curators and writers, I dare say that a different emphasis would have emerged. More critical attention would have been given to themes of gender, and the word "primitivism" – even in inverted commas – would have been avoided.
But in the end, even with a woke Australian curatorium, the effort to demystify Picasso would be doomed. It would be like a bullfight where the bull wins.
The Picasso Century is at NGV until October 9