"It was well hidden away, so nobody saw it," she said. "Now is the time to share it and its story."
The museum, sold to a private buyer in 2019, is now conducting a significance report on the mural with a $60,000 grant from the City of Greater Geelong.
The report will also seek to establish who painted images on top of the Cooper mural, including a depiction of the eagle Bundjil with a white rabbit in his claws and the figure of a half-kangaroo half-crocodile painted in a Northern Territory style.
Some images painted onto the mural, including a Japanese maritime scene, are almost certainly not Cooper's work.
The council's Aboriginal and Torres Strait Islander senior policy officer, Julie Saylor Briggs, said the mural was different to many of Cooper's other paintings, which are lush and green.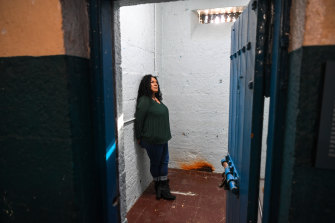 "This particular piece is barren," she said. "It looks a bit post-apocalyptic to me."
She said the work was probably Cooper's largest painting. Saylor Briggs said while Cooper did not have children, she has been working to contact his family.
An entry in the Australian Dictionary of Biography by academic Sylvia Kleinert said Cooper was born at Katanning in Western Australia, probably in 1934. He was declared a ward of the state as a boy and placed in the Carrolup Native Settlement, which produced several talented artists.
"Cooper was of medium height with a slim build, a broad smile and an open, friendly disposition," Kleinert wrote.
"His struggle with alcoholism and his itinerancy contributed to both the achievements and the tragedy of his life."
He was murdered age 49 in Buxton, north-east of Melbourne, in 1983 and lies in an unmarked grave in Fawkner cemetery.
Geelong Gaol Museum curator Rob Wynne said it was unknown how many other Cooper murals were hidden in the jail.
He said Cooper's cell 18 was once covered in art. The tiny room, hardly bigger than a double bed, has since been painted a dull pale blue.
But a partially covered waterfall scene in the jail library is probably by Cooper.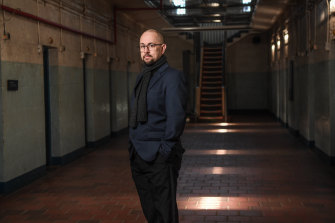 "It's an amazing find," Wynne said.
Yorta Yorta and Dja Dja Wurrung man Teriki Onus said many artists had been influenced by Cooper.
Loading
Onus, who is head of Melbourne University's Wilin Centre for Indigenous Arts and Cultural Development, said Cooper's landscapes expressed a strong sense of culture but also a yearning for country.
"A Revel Cooper draws you in from across the room. It embraces bold colours and bold lines," he said. "It's incredibly evocative."
Onus said Cooper held a special place in his own family having worked in the Belgrave shop of his grandfather, Aboriginal activist Bill Onus, while also influencing the work produced by his artist father Lin.
While Cooper's life was marked by sadness, Onus said his story was also one of incredible strength.
"I'm incredibly grateful for what we do have and excited about what's out there still to be discovered."
The Morning Edition newsletter is our guide to the day's most important and interesting stories, analysis and insights. Sign up here.