The Department of Justice will have "nowhere to go" except to charge Donald Trump and his allies with felony offenses once all the evidence from the January 6 committee has been presented, according to a legal expert.
Glenn Kirschner, a former federal prosecutor, told MSNBC's The ReidOut that the DoJ is "about to play catch up" to some federal judges with regards to ruling the former president committed a crime before and after the January 6 insurrection.
Kirschner noted how District Court Judge David Carter recently ordered Trump's attorney John Eastman—who is accused of conspiring with the former president to overturn the 2020 election results—to hand over more emails to the House Select Committee as part of the investigation into the January 6 attack.
In his 26-page ruling, Carter noted Eastman advised Trump to pressure then-Vice President Mike Pence to stop the certification of the 2020 election results during his purely ceremonial role as presiding officer of the Senate, even though the lawyer knew such a tactic would be illegal.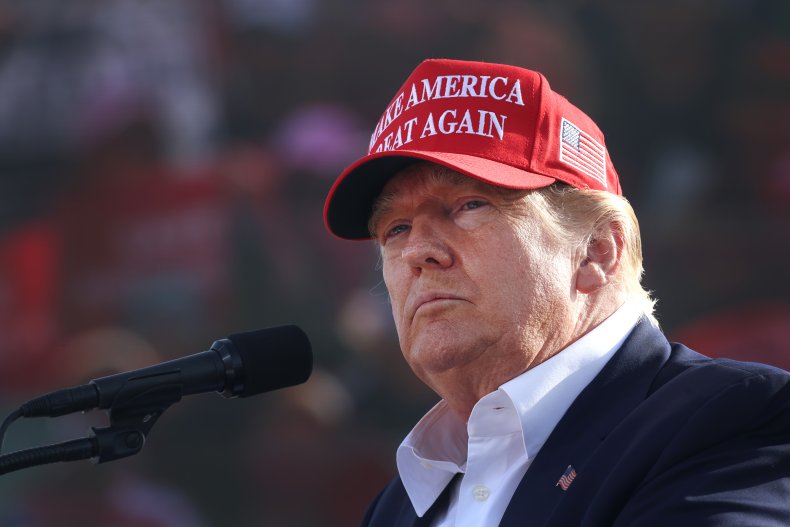 Eastman is also alleged to have met with sitting members of Congress in December 2020 in order to discuss plans to "challenge the electors" in the House of Representatives and pressure them not to certify the electoral votes.
Kirschner said that Carter was "virtually screaming from the rooftops" that Eastman and Trump are alleged to have conspired to defraud the United States and obstruct official proceedings, being the certification of Joe Biden's election victory, in his legal findings.
"The Department of Justice is about to play catch up with where some of these federal judges already are, having evaluated the evidence of crime by Donald Trump and his co-conspirators," Kirschner told host Joy Reid.
"And I think the January 6 six public hearings are going to be the catalyst that we need. Once we see the evidence with our own eyes of these crimes, the DoJ will have nowhere to go but to indict these men for what they did."
While the House Select Committee is not a criminal investigation, the panel said they would be prepared to submit any evidence of criminal behavior to the DoJ.
Prior to the hearings, there has been no indication from the DoJ on whether prosecutors are considering filing criminal charges against Trump, with Attorney General Merrick Garland not publicly stating how he will handle the committee's findings.
The DoJ is also conducting a separate investigation into the Capitol attack which has resulted in hundreds of indictments.
Two of Trump's inner circle, former adviser Steve Bannon and ex-White House trade advisor Peter Navarro, have been charged with contempt for refusing to comply with their subpoenas.
The DoJ recently announced former White House Chief of Staff Mark Meadows and ex-Deputy Chief of Staff Dan Scavino would not be not facing similar charges for not fully complying with their congressional subpoenas.
During a previous appearance on The ReidOut, Kirschner alleged that Trump's actions around January 6 and his attempt to the stop the peaceful transition of power amounted to treason.
"What we now know is that Donald Trump not only set the date for the Capitol attack, but he also refused to call off his angry mob once he deployed them for more than three hours," Kirschner said on June 10.
"This begins to feel not just like treason but like treason squared."
Monday's January 6 hearing will hear from a number of witnesses, including Trump's former 2020 election campaign manager Bill Stepien, and Chris Stirewalt, a former top editor at Fox News who called the key state of Arizona for Biden on election night.
Trump has been contacted for comment.
Update 6/13/22, 10 a.m. ET: This article was updated with additional information on the Department of Justice.