One protester on Vancouver Island was taken to hospital after a ladder he was on collapsed, said RCMP.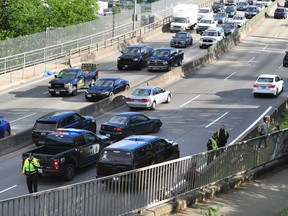 Article content
A group of environmental protesters blocked three major thoroughfares in Metro Vancouver and Vancouver Island on Monday, causing disruptions and delays to rush-hour traffic.
Article content
The co-ordinated demonstrations started just before 6 a.m. when about a dozen activists set up a blockade on the Pat Bay Highway, bringing northbound traffic including ferry traffic bound for the Swartz Bay terminal, to a halt.
At around 7 a.m. protesters blocked the north entrance of the southbound Massey Tunnel, blocking traffic on Highway 99 between Richmond and Delta, including vehicles headed for the Tsawwassen ferry terminal.
Protesters also targeted westbound lanes on the Ironworkers Memorial Bridge between Vancouver and the North Shore.
In total, nine people were arrested.
Protest organizer Zain Haq said that more actions were planned for Tuesday and for the rest of summer — every day.
"The plan is to keep escalating until the government agrees to a meeting to discuss legislation to stop old growth logging," said 21-year-old Haq.
"Every single day we will be disrupting the highways in multiple locations both on the island and in Vancouver."
Article content
Monday's protests were cleared quickly by police, although delays lingered due to congestion.
In Vancouver, police arrested five protesters, including four who tried to lock themselves to a steering wheel inside a car on the bridge deck.
In a pre-emptive move, three unoccupied vehicles strategically placed by protesters near the bridge were seized, because police believe they were meant to block bridge traffic.
"Unlawful protests that clog vital pieces of infrastructure put people's safety at risk," said Vancouver Police spokesman Sgt. Steve Addison. 
In Richmond, Mounties broke up a blockade by three people sitting on the highway and a fourth person perched atop a platform ladder who was found to be in breach of conditions from a prior protest in another jurisdiction.
Article content
In a statement, RCMP said it plans to pursue criminal charges for everyone arrested.
On Vancouver Island, one protester was injured after the ladder he was on collapsed, said RCMP. He was taken to hospital, and Save Old Growth said later in the day he suffered serious injuries. Five people were arrested.
Protest organizer Sophia Papp said a protester fell because a "frustrated" driver snapped a support beam to a platform holding the protester.
"I understand the frustration of people stuck in traffic, but compared to climate change destruction, it's paltry," Papp said.
B.C. RCMP spokesperson Alex Bérubé said some frustrated commuters tried to bypass the blockade.
"While we understand the commuters frustration, the RCMP does not condone illegal actions taken to bypass blockades" he said.
Article content
https://vancouversun.com/news/local-news/woman-arrested-protest-ironworkers-memorial-bridge

Save Old Growth protesters may be sued for damages by drivers delayed by blockades

Extinction Rebellion members call an end to their hunger strike
Forests Minister Katrine Conroy said the protests are "the wrong approach."
"After decades of neglect, we are taking action to better protect our oldest and rarest forests. Old growth logging has declined 40 per cent over the past five years," said Conroy in a statement.
Conroy said the province is working with First Nations to protect more and more old growth, and that 80 per cent of the most at-risk old growth "is not threatened by logging because it is protected, deferred or uneconomic to harvest."
Article content
Tamara Meggitt, organizer of a group called Clear the Road which is planning a class-action lawsuit against protesters, said she wouldn't be surprised to hear of more incidents flaring up between fed-up drivers and protesters.
"It's so frustrating for people," she said. "For some, it might be the straw that broke the camel's back."
But she said drivers shouldn't take matters in their own hands.
"That's their game. They want to anger people. So hold yourself back, and just record, document, and reach out to us. Let us know how it's affecting you so we can move this forward."
Meggitt said she has been contacted by "dozens and dozens" of people who have suffered financial losses or missed medical appointments from delays due to the protests.
Article content
Save Old Growth warned in a news release it plans to mount further blockades until their demand is met.
The group, which wants an immediate end to all old-growth logging in B.C., has escalated its tactics in recent months, with activists blocking busy transportation routes in the Lower Mainland and Vancouver Island.
Last week, protesters from Save Old Growth ran onto the soccer pitch during a CONCACAF Nations League game between Canada and Curaçao and tried to glue themselves to the goal posts. Two people were arrested, said Vancouver police.
Save Old Growth spokesman Zain Haq had said the group's non-violent protests are aimed at sparking public discussion and changing government policies to heed climate science and that its members are prepared to go to jail.
The government said it is following recommendations of an independent review of B.C.'s old-growth forest management.
chchan@postmedia.com
— With files from David Carrigg and Victoria Times Colonist