They were among 992 Australians who received Queen's Birthday Honours this year, 40 per cent of whom were women.
Murphy said he was holidaying with his family in Rome over Christmas 2019 when he first heard about a new virus in Wuhan, China.
Concern was somewhat muted, he said, in early January, as it initially appeared that there were only a few dozen cases. That changed on January 19 and 20 when it became clear that the virus could transmit between humans, and healthcare workers had been infected.
"I think I was increasingly convinced it wouldn't be containable despite all the aggressive measures that the Chinese took," Murphy said.
He said while it was clear that it would be impossible to stop COVID-19 from being imported into Australia entirely, he and state chief health officers, through the Australian Health Protection Principal Committee, advised state and federal governments that it might be possible to control it for long enough to avoid the feared tens of thousands of deaths.
Loading
"We thought that we could, by a combination of border measures and public health and social measures, manage to largely control and contain transmission while we were still waiting for a vaccine."
The Melbourne-born health administrator said, while acknowledging the "terrible outbreak in Victoria" in 2020, that this was largely achieved until the Delta strain arrived in the winter of 2021.
"We did avoid the overwhelming of the health system and the tens of thousands of deaths. The US had well over a million deaths, which is sort of mind-boggling," he said.
"I think as a nation we pulled together incredibly well. And then when the vaccines came, I think Australians put their arms out and we managed to get a pretty good primary vaccination rate. And now I think we're in a phase where we're trying to protect the vulnerable, we're not trying to stop transmission."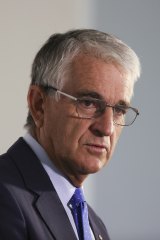 Murphy has also worked as an academic clinician, helping to discover a number of new immune inhibitor proteins, as a kidney specialist at St Vincent's Hospital in Melbourne and as chief executive of Austin Health in Melbourne for more than a decade, among other roles.
He said he still missed clinical medicine, working with patients and the reward of making important diagnoses and changing people's lives.
John Anderson, the former Nationals leader and deputy to prime minister John Howard, was among five former politicians to receive honours.
Since stepping away from a long career in politics, Anderson has become a vocal advocate for rural and regional development, focusing on agricultural research and food security.
Loading
"What I've tried to do since I left public life, much of it is centred on trying to be a friend and a supporter to many wonderful Australian organisations and people building in the region, and in other parts of the world like Africa," he said.
Other former politicians to receive honours included Carmen Lawrence, the first woman to become premier of an Australian state, having led Western Australia in the early '90s.