Police are claiming a major win on drugs, after arresting an accused cartel chief and extraditing him to Melbourne.
Chinese-British man Chung Chak Lee, 66, was allegedly one of the masterminds behind the Asia-based criminal syndicate.
He was number six on the Australian Federal Police's most wanted list.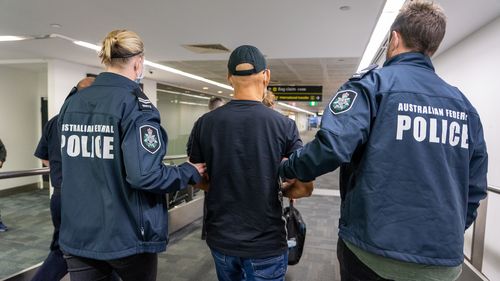 Investigators allege he is a kingpin from the world's largest drug syndicate, known as "The Company".
The syndicate is allegedly linked to as much as 70 per cent of the drugs on Australian streets, money laundering at Crown Casino and the 2017 seizure of $1 billion worth of drugs off Western Australia.
Senior associate Lee was arrested at his Bangkok apartment in October 2020 by Royal Thai police using a provisional arrest warrant, based on charges to be laid in Australia.
The AFP alleges he was part of a conspiracy to traffic 40 kilograms of methamphetamine in five separate quantities over twelve months in 2012.
After being taken from Melbourne Airport in handcuffs, Lee was taken to the Magistrates Court.
It was the first step of a legal process that could see the alleged criminal mastermind spend the rest of his life behind bars, if found guilty.
Lee is expected to front court again next week.