Queensland Premier Annastacia Palaszczuk hopes to get energy market issues on the agenda at Friday's national cabinet meeting.
The comments, made alongside her Energy Minister Mick de Brenni – who remains confident the state would avoid widespread blackouts tonight – come amid a volatile period in the national energy market and a cold start to winter.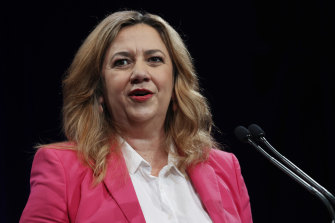 Palaszczuk told reporters Queensland had been "doing the heavy lifting" by releasing gas for domestic supply, something "NSW and Victoria have refused to do".
"We all need to do the heavy lifting, not just one state, so it'll be something that I'll be raising … when we meet with the Prime Minister and other premiers later on this week," she said.
De Brenni said the "key message" was there would be "adequate supply for tonight".
"The market is working as it should, and I have full confidence that the [Australian Energy] Market Operator will continue to work with Queensland's publicly owned generators in the electricity system, and also continue to successfully instruct the private sector generators to supply electricity," he said.
Loading
Breakdowns and maintenance outages have forced about one-quarter of the east coast's coal-fired power stations out of action, culminating in some generators offering less power into the market after moves by the regulator to enact a price cap and crimp profit margins.
Of the 107 power generating units across the state, five of those which are publicly owned and four which are privately owned were currently out of operation, de Brenni said.
The minister has separately confirmed that none of the state's many publicly owned generators had withdrawn capacity.