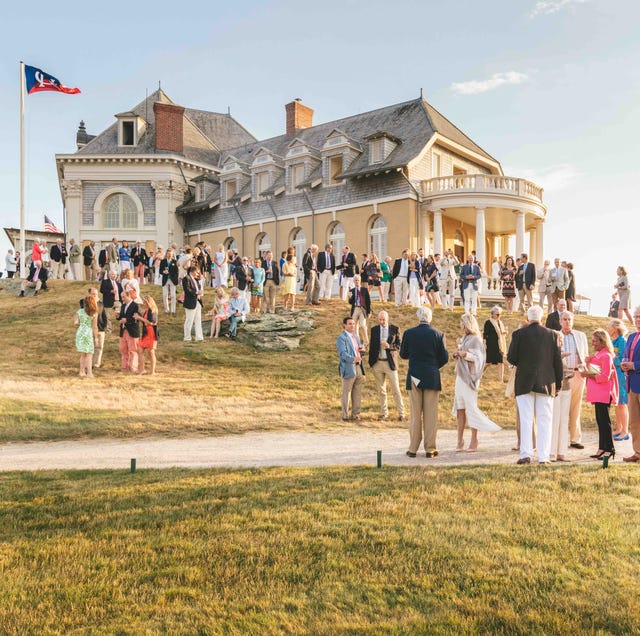 Nick Mele
In A Newport Summer, lifelong Newport residents Ruthie Sommers and Nick Mele peel back the curtain on a rarely seen side of Newport: the lives of the families who own and preserve the Gilded Age mansions that are still privately held. It's a world of understated WASP glamour, with clambakes on the beach, and kitchens that haven't been updated in decades. The book, recently released by Vendome Press, traces the summer season month by month, from June through September. Below, a few of the images from the book that show why Mele has been called a modern-day Slim Aarons.
Advertisement – Continue Reading Below
A procession of boats follow the yachts competing in the Volvo Ocean Race.
A collection of summer hats holds residency in the front hall.
A man stands proud in his favorite room for parties and family gatherings.
A couple plays tennis on the main court of the Tennis Hall of Fame.
One of Newport's grand ladies poses in front of her back porch.
A pianist plays during an event at Roughpoint amongst Doris Dukes handprinted wallpaper.
Partygoers enjoy pre-party cocktails at a private home before attending the annual Preservation Society Gala.
Evening illuminates the backside of Rosecliff.
Author Ruthie Sommers' children enjoy an afternoon at home.
A luncheon at the Clarke Cooke House.
A white-tie charity dinner at Rosecliff.
An aerial view of Ledge Road.
A woman poses next to a portrait of her younger self.
Cousins run across the lawn at Beachmound.
A boy watches a seaplane anchor itself on the beach at the end of the historic Cliff Walk.
An aerial view of the Ledges, surrounded by September fog.
Post-dinner fireworks overlooking the ocean. July in Newport is a non-stop fireworks show.
A couple poses in their dining room. Dogs in dining rooms are par for the course in Newport.
A grand dame waves hello from her refuge of books, photos, and conversation .
Partygoers enjoy pre-dinner cocktails at a birthday party at Marble House.
Dressed for the day in Newport, a gentleman enjoys his foyer.
T&C contributor Sam Dangremond at Hammersmith Farm during Newport Coaching Weekend.
A boy and his dog relax in his great-grandmother's bedroom.
A mother watches her children play as she gardens.
A family poses for a portrait at home. Many of the homes in Newport have housed the same families for generations.
Two mini bernedoodles (bred from a Bernese mountain dog and a poodle) lounge center stage.
A mother, grandmother, and friend pokes her head out from behind a pink fridge. Many of the kitchens in Newport are charmingly unrenovated.
Photographer Nick Mele with his son Johnny and dog Bodhi. Mele's family is often the subject of his whimsical photographs.
On the book's cover, Nick Mele's wife Molly walks across a friend's lawn with her son and dog.
This content is created and maintained by a third party, and imported onto this page to help users provide their email addresses. You may be able to find more information about this and similar content at piano.io
Advertisement – Continue Reading Below