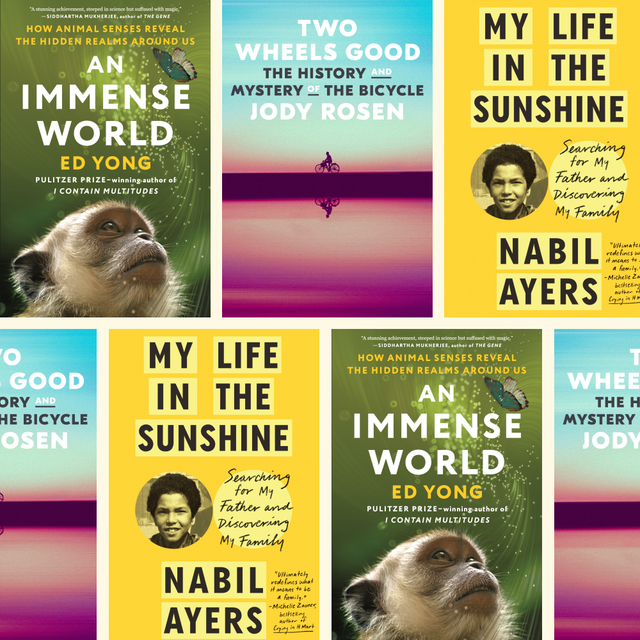 Crown, Viking and Random House
What do fathers crave on their holiday? Conventional wisdom dictates a set of golf clubs, a night out with his poker dudes, a five-course dinner at a four-star chophouse (cigars and bourbon optional). But beyond the caricatures (no dad jokes here), dear old Dad may be a bookworm at heart. Oprah Daily has curated a list of stellar current titles that center the myriad facets of fatherhood, just as men are cobbling together fresh roles in our culture, yielding higher levels of professional and personal satisfaction. These authors speak boldly, essential voices on parenting, morality, identity, and the world around them.
Their backgrounds are as varied and rich as the genres they illuminate: history, politics, memoir, poetry, fiction. Nigerian American Will Jawando felt stranded and rebellious after his father abandoned their family; as a teenager and young man he serendipitously found substitute fathers, galvanizing role models, including President Barack Obama. In The Rise and Fall of the Neoliberal Order. Cambridge historian Gary Gerstle investigates the flux of Western governments, reading the tea leaves, steeling himself to the prospect of institutions in free fall. For aficionados of literary fiction, two-time Booker Prize champion Dame Hilary Mantel steps back from the pageantry of Thomas Cromwell and the Tudors to tap her own childhood and adolescence: Learning to Talk, linked, loosely autobiographical stories, spotlight, in exacting prose, the sorrows of an "unfathered" girl. Pulitzer Prize winner Yusef Komunyakaa's collection of new and selected poems, Everyday Mojo Songs of Earth, teases language out to a gossamer fineness, pitting art and transcendence against our grim era. Ibram X. Kendi, winner of the National Book Award, spins the self-help genre on its head with How to Raise an Antiracist. In 1992 Francis Fukuyama rocketed to a level of notoriety—and bestsellerdom—with The End of History and the Last Man, a triumphalist argument for capitalism and democracy, shredded by the shocking events of 9/11. He's back with another manifesto-in-book-form, Liberalism and Its Discontents, revisiting what he got wrong, and why.
And that's just the tip of the cigar. These 18 books will tickle the fancy of fathers across a range of demographics and interests.
Advertisement – Continue Reading Below
1
My Life in the Sunshine, by Nabil Ayers
When Louise, a 20-year-old white ballerina, met jazz and funk maestro Roy Ayers at Manhattan's Village Gate in 1970, she felt an instant attraction. After a few dates, she asked him to impregnate her, giving explicit permission to absent himself from their child's life. Their son, Nabil, grew up amid the hangover of those sexually freewheeling times, an aspiring musician himself, roiled by competing emotions for both parents, the one he didn't know and the one who'd denied him a conventional upbringing. His vibrant, gripping memoir is its own reckoning as he dreams, literally, of a connection with his mysterious, famous father: "I wanted to be part of a real family," he notes, "and moving to New York—where my father lived—might afford me that opportunity.… No matter how much I might pretend otherwise, my subconscious was letting me know: I wanted Roy in my life."
2
Homesickness, by Colin Barrett
Many a writer claims mastery of technique, but few deliver at the level of Colin Barrett, whose roving perspectives, lopped-off endings and Kevin Barry-esque dialogue dazzle in his second collection, mostly set in Ireland's County Mayo. Barrett harnesses his craft in service of his characters, mostly working- and middle-class folks from Ireland's County Mayo. "A Shooting in Rathreedane" mimics a police procedural, as a world-weary policewoman—think Nicola Walker in one of her indelible television roles—investigates a bizarre crime-that-isn't. In "The 10," a former soccer prodigy returns from Manchester to a dissolute life. The most boisterous piece, "The Alps," features three brothers snagged in a weird incident at a pub. Barrett is a doyen of the sentence; each snaps and sings like a bullwhip. We know these people because we hear and see them in perfect clarity—they're not homesick so much as sick of home.
3
The Quiet Before, by Gal Beckerman
A series of letters exchanged among astronomers in the 17th century. Samizdat in the Soviet Union amid government crackdowns. Tiki torches in Charlottesville. BLM signs in Minneapolis. Beckerman, books editor for The Atlantic, guides us through moments of social upheaval, limning the ways revolutions incubate offstage, in the shadows, and the technologies and mediums that trigger change. "We think about the dark corners of the Internet as places of danger and radicalization, where the absence of shame allows terrible notions to fester," he writes. "And it's true. But there is another way of conceiving of what happens when a self-selecting group retreats to a quieter, slower, more private, and less performative space to have conversation: it breeds imagination."
4
Also a Poet, by Ada Calhoun
In 2018 Calhoun, the celebrated author of St. Marks Is Dead and Wedding Toasts I'll Never Give, stumbled across cassettes tucked in a drawer in her parents' East Village apartment. Recorded in 1977, the year after Calhoun's birth, these tapes depicted revelatory conversations between her father, New Yorker art critic Peter Schjeldahl, and a vibrant cast from the fringes of the Abstract Expressionists and New York School, painters and poets that flagrantly pushed the boundaries of art and literature in Manhattan during the 1950s and '60s. Schjeldahl had signed a contract to write a biography of his friend the poet Frank O'Hara, who'd died in a bizarre dune-buggy accident on Fire Island a decade earlier. The project imploded when the O'Hara estate blocked access to private archives. Calhoun vowed to finish what her father failed to accomplish, one-upping the distant, aloof parent whose approval she craved. But writers have a knack for testing our expectations, pulling the rug from beneath our feet. Also denied access, Calhoun realizes her research is tilting toward a more personal story—she's locked in a semi-Oedipal contest with Schjeldahl. Also a Poet is a mélange of cultural history and a poignant cri de coeur.
5
Sleepwalk, by Dan Chaon
Chaon's exuberant new novel draws on an array of genres and narratives, but it's also a visionary work. Will Bear, Chaon's 50-year-old narrator, has no birth certificate, no Social Security number, no Facebook page. Will—or Billy, or "the Barely Blur"—drives a camper; his best friend is his pit bull, Flip. He roams the country, microdosing on LSD and doing odd jobs for a shadowy criminal syndicate. His routine is disrupted when a young woman, Cammie, calls him repeatedly on burner phones, claiming to be his biological daughter from a sperm-bank deposit he made in his 20s. Will hits the blue highways, meandering through the Midwest to the desert Southwest to the Carolina coasts—in his sideview mirrors he glimpses a country blistered with military checkpoints, flu epidemics, and robot spies. Chaon balances rage, tenderness, and gallows humor as his Everydude seeks intimacy from a daughter who may or may not be real. A polished performance by a writer in command of his gifts.
6
Liberalism and Its Discontents, by Francis Fukuyama
Infamous for his The End of History and the Last Man, published three decades ago, the iconoclastic political scientist courts controversy again as he peers at liberal philosophies of governments through a critical lens. With his former theory about the triumph of free markets now in tatters, he circles back to all the junctures where democracies jump the rails, exposing a savage reality beneath the decorum of diplomacy and the pronouncements of Enlightenment thinkers such as Hobbes, Kant, and Jefferson. His language is astute, clinical, but urgent.
7
The Rise and Fall of the Neoliberal Order, by Gary Gerstle
A Cambridge historian (and American abroad) offers up a brilliant study of neoliberalism (very different than the Twitter hashtag). With the ebb of monarchy and the dawn of representative democracies, nations have struggled with tensions between public and private interests, healthy competition that easily slips into scorched-earth warfare and widening inequity. Gerstle draws crucial distinctions between New Deal liberalism and its successor ideology, which appealed to conservative and progressives alike. (The influential economist Milton Friedman eschewed the term "conservative" and self-identified as a classical liberal.) A heady, enthralling mural of big ideas and revelatory anecdotes, reminiscent of Thomas Piketty's A Brief History of Inequality.
8
Raising Raffi, by Keith Gessen
Girls color neatly between the lines. Boys scrawl wildly across the page and fidget in their chairs. And then there's Raffi, enfant terrible extraordinaire, whose first five years are beautifully chronicled by New Yorker writer Gessen. From the desire to teach Raffi his own mother tongue—Russian—to his son's titanic tantrums, to the existential quest for a good Brooklyn preschool, Gessen parts the curtain on one man's voyage through the choppy waters of early fatherhood, the nagging self-doubts and bursts of joy, a marriage of disparate selves passed along, like DNA, from generation to generation.
9
My Seven Black Fathers, by Will Jawando
A Black activist wrestles with an absent father and the surrogate dads who filled in the gaps. The only child of a white mother and a Nigerian IT technician, Jawando pushed back on his parents' divorce in the classroom, on the basketball court, acting out his hurt in an aggression until an older player took him under his wing, launching an odyssey to seek out the men who mattered. A grade-school teacher; his mother's sassy gay friend; an African entrepreneur; President Barack Obama—these men raised Jawando into a life of professional accomplishment, a family of his own, and a reconciliation with his biological father as the older man negotiated a final illness. An inspirational and eloquent call to arms, Jawando stressed the necessity of mentorship and role models.
10
Rogues, by Patrick Radden Keefe
The literary style of New Yorker writer Patrick Radden Keefe is already iconic, in the vein of William Maxwell, E.B. White, Joan Didion, and Hilton Als, with four landmark books under his belt, including the widely praised Say Nothing and Empire of Pain. This collection of magazine pieces showcases his moral compass and playful curiosity as he delves into the netherworlds of "grifters, killers, rebels and crooks." From the personal story of a female mass shooter to the inside skinny on the late, charismatic Anthony Bourdain, Keefe delivers masterpieces in miniature; or as he writes of Trump hagiographer Mark Burnett, "the real alchemy…is the editing—sifting through a compost heap of clips and piecing together an absorbing story."
11
How to Raise an Antiracist, by Ibram X. Kendi
The author of such trenchant works as How to Be an Antiracist and the National Book Award–winning Stamped from the Beginning bores through layers of systemic injustice, a sense of mission burning off the page. Part memoir, part how-to, his new book's a toolbox for how to nourish our children by debating controversial ideas like CRT and embracing wider perspectives from the margins. Kendi argues that we should rally around diversity early on: "Universal preschool education can be beneficial for another less talked about reason. Preschools can systematically impart what young-adult and middle-grade novelist Jason Reynolds calls the antibodies of antiracist education." An uplifting, prescriptive program for combating a contagion that infects us all.
12
Everyday Mojo Songs of Earth, by Yusef Komunyakaa
American poets, to paraphrase Walt Whitman, contain multitudes, confirmed here in this virtuosic collection of new and selected work by the Pulitzer laureate. Komunyakaa's poems from the past two decades are odes, hymns, sermons, quarrels, confessions—or hybrids of all. His music is both melodious and atonal, rhythmic with the burdens of racial oppression, the trials of a Southern childhood and a brutal stint in Vietnam. But there's redemption in art: he pays homage to forebears such as Rubens and Rodin, Greek and Egyptian myths, distilling our hidden selves: "Say licked clean at birth. Say/weeping in the tall grass, where/this tantalizing song begins."
13
Learning to Talk, by Hilary Mantel
One of just four two-time Booker Prize honorees—and the only woman, for Wolf Hall and Bringing Up the Bodies—Mantel opts, Vermeer-like, for a more intimate canvas: linked stories that frame a family marred by sexual betrayals, shadings of mood, money woes. Set in a village in Derbyshire during the 1950s and '60s, Learning to Talk is loosely autobiographical, with elegant, pitch-perfect sentences. The "I" face a peculiar dilemma: At the age of 8, her mother moves a lover into the house, banishing the girl's father to a bedroom at the rear of the house until he eventually vanishes. The daughter never sees him again. The psychic wound festers. As Mantel noted in a recent interview, this character is "unfathered"—the girl's parent is nowhere but everywhere, as her mother launches a career as a retail saleswoman, lipstick and nylon stockings. Here is a writer who can do anything, anytime, anywhere.
14
Because Our Fathers Lied, by Craig McNamara
The son of the Vietnam War's architect wrestles with his father's legacy, tempering fond memories of high school football games with Robert McNamara's guarded silence on his job as Secretary of Defense. In a graceful, easy prose, Craig McNamara probes his shame as a son of privilege and why he gravitated toward the antiwar movement in the late 1960s. "I broke things and smashed glass at length," he writes. "I talked my way out of getting arrested.… This template of protest was the only thing available to make sense of the ugliness of my inner world."
15
Geography Is Destiny, by Ian Morris
For over 10 millennia, the wind-furrowed, rain-lashed British Isles have been at the crossroads of human history, a quirk of geography as European cultures emerged from the last Ice Age. The what, why, and how are covered in judicious detail by an esteemed Stanford academic, as Morris traces a singular arc from Roman outpost to medieval battlefield to a mighty Empire. From its rich language to civil systems to cruel colonization, Britain has left an indelible imprint on the world. The rise of the United States on the global stage—"the American is the Englishman left to himself," as de Tocqueville opined—has forced the nation to ask a consequential question: Should it maintain its role in a teetering Europe or lean closer toward its "special relationship" across the pond? A treat for the history buff.
16
Two Wheels Good, by Jody Rosen
A contributor to the New York Times Magazine pops the ultimate wheelie in this vivid social history of the bicycle, taking readers on a thrilling ride from the slums of Glasgow to the deserts of Malawi to the volcanic slopes in Oahu. There's even a detour to the frozen wilds of Canada, a chapter on Klondike cycling. Rosen plants his flag at the intersection of culture and sport, the politics of pedaling and even a proxy war between the sexes. He enhances his narrative with lush sidebars and curiosities: "A crucial truth about the bicycle, as a historical and technological phenomenon, is that it arrived illogically late. It was an anachronism at birth," he writes, "a decade and a half after the invention of the steam locomotive."
17
Companion Piece, by Ali Smith
Scotland's "Nobel laureate-in-waiting" pens a coda to her groundbreaking seasonal quartet, nimble wordplay poised against a riddle of a plot. Sandy, a middle-aged lesbian writer, hunkers down during Covid while tending to her ailing father. He's in full-on decline; she's in partial denial. Out of the blue, she gets a call from a former classmate whom she scarcely remembers—she's too preoccupied with daunting choices, simmering angst, and her dad's dementia to dwell on the weird conversation. Something about an antique timepiece? And yet Sandy's interest is piqued: Like so many of us, she's searching for solace against the buzzing hive of her thoughts. Companion Piece is spare, suspenseful, resonant—and a gorgeous testament to the fragile relationship between parent and child on the threshold of mortality.
18
An Immense World, by Ed Yong
In this sumptuous new work, the author of the bestselling I Contain Multitudes and Pulitzer winner tackles animal senses and what they reveal about Umwelt, "the part of those surroundings that an animal can sense and experience—its perceptual world." From bat sonar to dog noses to mosquito tastebuds, Yong's reporting is layered, seasoned with vivid scenes from laboratories and in the field, interviews with researchers across a spectrum of disciplines. Biology geeks will dine out on the rich anecdotes, the historical detours and pithy footnotes, rendered in a witty, crystalline prose. One of this year's finest works of narrative nonfiction. To the bestseller lists!
This content is created and maintained by a third party, and imported onto this page to help users provide their email addresses. You may be able to find more information about this and similar content at piano.io
Advertisement – Continue Reading Below